Why do you need FAQ addon?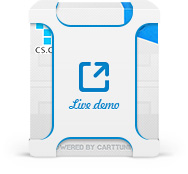 Visitors of your site often ask the same questions? You need to answer all these frequently asked questions, handily note several important points at the same time, and get more opportunities for seo-optimization? Or maybe you are just aimed at providing better customer service. Our CS-Cart FAQ addon is a perfect solution of all these tasks.
Let's look in detail at the addon. FAQ addon has 8 pretty themes. The module can be used in three areas of your website in various forms: as separate tabs on detailed product pages, blocks on different parts and pages of the site, and a separate faq page. The addon has an intuitive and easy interface, which means you can use it with maximum comfort and convenience. 8 available themes allow you to customize the addon according to the design of your website, besides you can use different themes for various pages of your site. The addon can be used on any webpage that supports block system.
If you buy this addon you are not spending money, you are investing it into your store. No doubt it's a good deal!
Features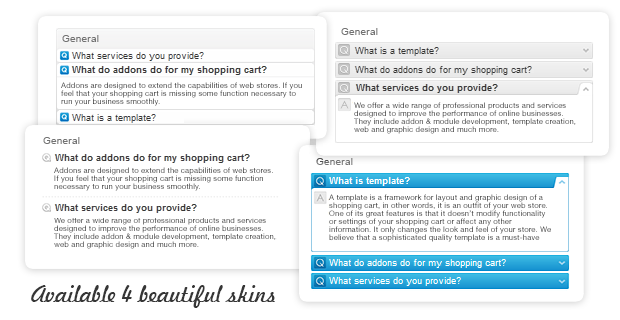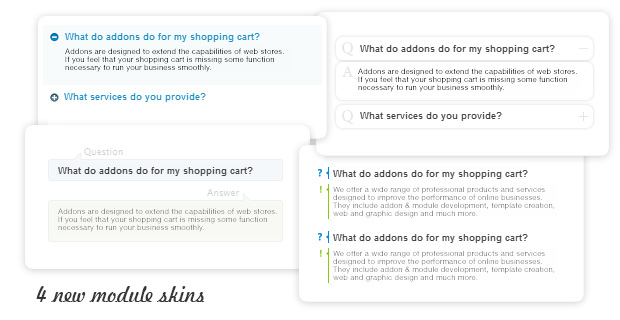 New! 8 awesome faq themes
New! Bulk FAQ addition
Userfriendly faq management in admin area
Supports faq categories
Supports multi languages
Available to use on product page as separate tab
Available to use on separate faq page
Available to use on different pages via block manager
Answers can be managed with wysiwyg html editor
Defines sort order and status for each category
Defines sort order and status for each question
Option to select theme for faq page, product page
Option to select theme in block manager
Supports different themes in several blocks
Supports multi instances on the same page
Doesn't affect CS-Cart core files
A must-have addon for every ecommerce website