Why do you need Product Slider addon?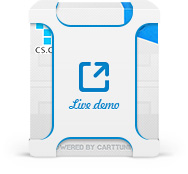 Imagine that you want to highlight new arrivals, best-selling, discounted, or any other unique products. How all this can be done? Our CS-Cart Product Slider addon will help you mark out important products by using awesome themes and effects. You can attract the attention of your visitors and motivate them to buy your products.
Let's look at the addon in more detail. CS-Cart Product Slider offers 9 wonderful themes and 7 splendid effects for product rotation. The module is added via block manager and supports 3 types of product filling to the slider: 'manual', 'most popular' and 'newest'.
The slider has also a great number of customizable features, such as the choice of color labels and text on them, customization of buttons, discounted labels and price tags. It's an intuitive, easy and at the same time very flexible addon. Just add a "Product Slider" block, check the settings of effects and advanced theme settings, add products, and the Slider is all set. No additional actions, it's user friendly and productive.
See the examples of themes and effects which are included in the module and you'll be convinced that this product slider will make a difference. It is what will help you make your store recognizable and unique. When you buy this addon you are not spending money, you are investing it into your store. No doubt it's a good deal!
Features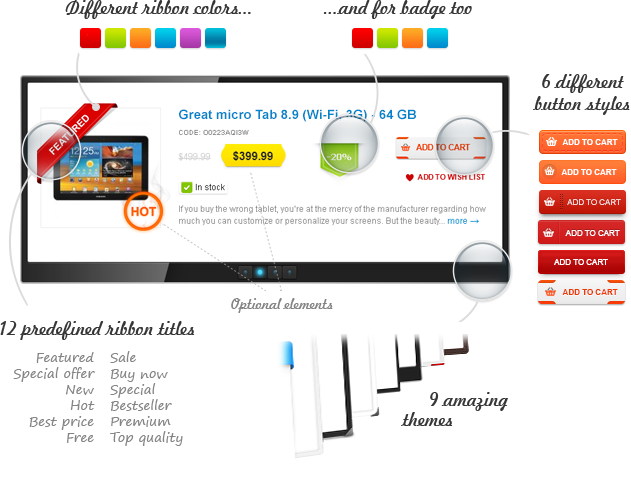 9 awesome slider themes
New. "On Sale" type of filling for Product Slider block (only for CS-Cart 4)
New! Flexible width of themes
7 unique transition effects
6 variants of "Add to cart" button
2 variants of "In stock" label
4 colors of "Discount" label
6 colors of "Ribbon" label
12 predefined "Ribbon" titles
Optional "Hot" label
Supports 3 types of product filling: Manually, Newest, Most popular
Unlimited number of slides
Supports AutoPlay option
Option to stop animation while hovering
Option to show timer line
Delay between slides
Slide transition speed
Supports control navigation
Supports multi instances on the same page
Doesn't affect CS-Cart core files
A must-have addon for every ecommerce website