Why do you need Video Player addon?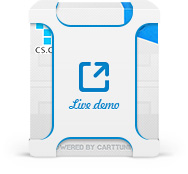 Imagine that you need to tell your visitors more about your products or to show it in action. How can you do this? Our CS-Cart Video Player addon is developed to help you out with this task. A video about your products or service can attract your visitors' attention and help with the choice.
CS-Cart Video Player allows you to add unlimited number of product videos. The module supports two video services: Youtube and Vimeo. Enter the link to your video and it will appear in an additional tab on the product page. Why the module does not support local video? Because the use of third-party services is more convenient: your videos are stored on external servers, there's no traffic restriction, and it's an additional opportunity to attract new customers and to promote your website.
The addon supports two variants of video display: thumbnails and iframe. Thumbnails open videos in popup windows and have two themes (Light and Dark) and two sizes (small and big).
Additional feature of the addon is the functionality of adding videos to pages via block manager. You can add a video to any page on your site. Just enter the link to your video in the necessary block, choose the type of display (Iframe or Video box) and add the block to the page. It's easy, and your store is much more informative to visitors now.
Hot feature! Global mass-adding video to the products. Very easy to assign and manage the video.
If you buy this addon you are not spending money, you are investing it into your store. No doubt it's a good deal!
Features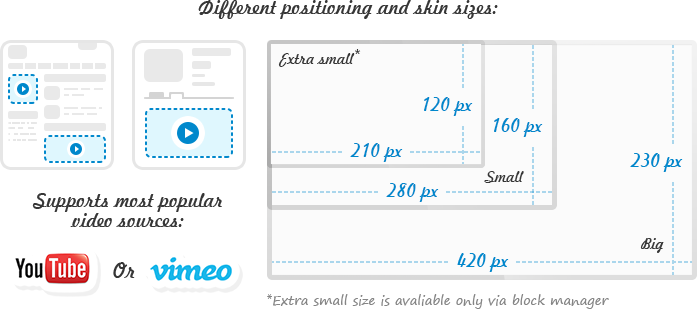 New! Bulk video addition
Unlimited number of videos
Supports YouTube video
Supports Vimeo video
2 video box (thumbnails) themes
Thumbnails open videos in popup windows
Supports iframe video display
Available to use on product page as separate tab
Defines sort order and status for each video
Option to select video theme for product page
Option to select video theme in block manager
Supports different themes in several blocks
Supports multi videos on the same page
Doesn't affect CS-Cart core files
Available to use on different pages via block manager
Examples of themes