Why do you need Deal of the day addon?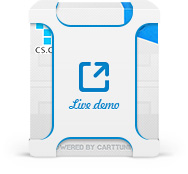 Imagine that you want to attract visitors' attention to discounted items or to sell out some of your products real quick. How can you do this? Our CS-Cart Deal of the day addon with its amazing themes, nice effects and a discount countdown timer will help you out. It is like an auction that motivates visitors to buy your products.
Let's look at the addon in detail. CS-Cart Deal of the day has 10 unique, high-quality themes and 5 beautiful effects of product rotation. The number of themes allows you to choose a perfect solution for your store. You can use both horizontal and vertical themes.
The addon is compatible with the standard discount functionality (Promotions) where you can set type of discount, define the period of promotion and the discount rate. You can add a slider with Deal of the day content using block manager and place the block anywhere on your website. It's an intuitive and handy module.
See the examples of themes and effects which are provided in the module, and make sure that this module is what your store does need to make extra sales. When you buy this module you are not spending money, you are investing it into your store. No doubt it's a good deal!
Features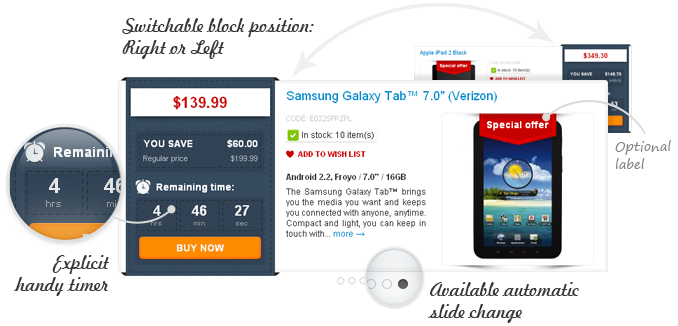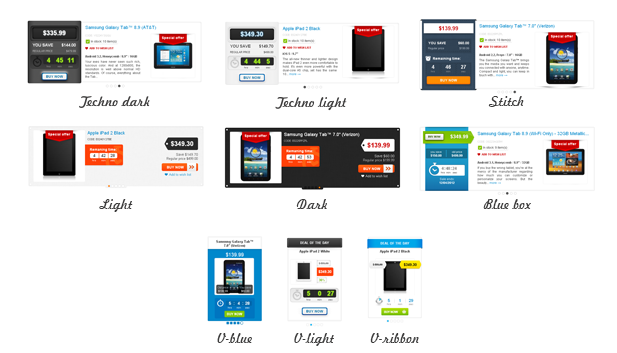 6 horizontal themes and 3 vertical themes
5 unique transition effects
New. "On Sale" type of filling for Deal of the Day block (only for CS-Cart 4)
Switchable sidebar position in horizontal themes: left or right
Works only with "Catalog" promotions
Special condition for promotions - "Products Deal Of The Day"
Available period in hours
Optional "Special offer" label
Works with products from "Promotions" section
Unlimited number of products
Supports AutoPlay option
Option to stop animation while hovering
Option to show timer line
Delay between slides
Slide transition speed
Supports control navigation
Supports multi instances on the same page
Doesn't affect CS-Cart core files
A must-have addon for every ecommerce website