CS-Cart Multi-Vendor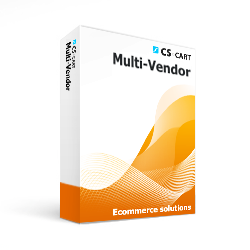 CS-Cart Multi-Vendor is an extended edition of CS-Cart that allows multiple independent vendors to manage sales of their products through one common web store with a single storefront and product catalog. This online shopping cart edition is a great ecommerce solution for large virtual shopping malls with numerous separate departments or vendors.
Sellers get the opportunity to easily control sales, as CS-Cart Multi-Vendor provides every vendor with a separate administration area to change product information, set prices, manage orders, view earnings and access other personal information and settings.
CS-Cart Multi-Vendor shopping cart software offers all features included in CS-Cart Professional, plus this extended edition provides advanced multi-vendor functionality that enables numerous sellers to offer products and do business through a common web store.
These multi-vendor features include:
Single storefront for all vendors which allows customers to get access to the full range of products available.
Unlimited number of vendors to expand your business continuously and create as many vendor accounts as you need.
One common checkout process to provide your customers with the opportunity to purchase products from multiple vendors in one order and pay only once.
Separate administration panels for each vendor, allowing them to gain total control over their own products and sales.
Root administrator account with full access to all settings and products to maintain control over the store and vendors.
Common payment processing. Initially payments are directed to the root administrator account and then distributed manually among the vendors according to the history of orders.
Separate payouts recording to track payable amounts for each vendor and to have your bookkeeping organized.
Vendor-specific shipping methods that makeit much easier for each vendor todeliver products.