CS-Cart Ultimate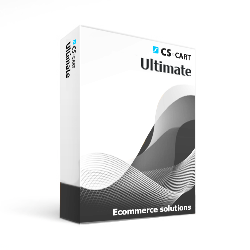 CS-Cart Ultimate is an ecommerce shopping cart software specially developed for those who own several online stores and need a powerful tool to easily control them all. This shopping cart edition can significantly save time and effort of business owners and administrators as it enables them to manage multiple online stores through one common back-end. CS-Cart Ultimate gives real freedom of choice as it allows users to either configure each store individually or share content and setting.
With CS-Cart Ultimate Edition you can:
Share pages, languages, currencies, product filters, etc. among your stores;
Customize appearance of each store individually through block management, templates and other tools;
Choose whether your customers have to register on every store separately or can do it just once and access all accounts with the same login and password;
Set different prices and descriptions of shared products for each storefront;
Use it either on subdirectories of a common domain or different domains which point to the same server;
Set regions from which customers can view a certain store;
Enjoy the full functionality of CS-Cart ecommerce platform.
The standard pack of CS-Cart Ultimate Edition offers two domain licenses that allow you to manage two storefronts with a single admin panel. Moreover, you can get as many additional domain licenses as you need, because this ecommerce shopping cart edition is able to run an unlimited number of online stores.