Startup Development
If you have a good idea and think that it can be really interesting for other people, then you need as soon as possible to make a first version of the startup and get the first feedback from your clients and coordinate the further development of the project. And we will help you to do this. CartTuning is the team of eCommerce geeks and web developers who have a good fortune.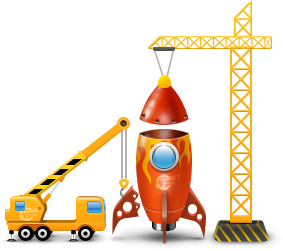 We are ready to offer you a development of a custom startup or of a startup based on eCommerce platforms. Our team is inspired by the spirit of startup and we have got all the necessary technologies, knowledge and experience. Our main priorities are keeping up with the latest trends, learning something new and constant development of our team. CartTuning team eagers to make every project exceptional, original and extremely attractive.
Our main goal is to create a rival product and to help every businessman to filter out his ideas and finally to make out a competitive project and bring it to the market as quickly as possible. We do not want you to spend a lot of your money and time in case your product is not released or your expectations about the startup are not satisfied. Step by step movement is what we do. It allows to attract new users on each iteration of the project and form a good community around your startup until the moment when your startup is completely done. You won't need to wait for months to launch the beta version, because the project will be developed in stages and you will be able to adapt your plans and strategies gradually.
In our business approach, we appreciate the importance of working hand in hand with businessmen in order to identify the main priorities of the startup development, distinctive features and important iterations. So we need to start with the analysis of the ideas and development strategy of the startup, getting the user experience and the search for similar projects. This stage provides us opportunity to understand the existing problems on the market and how to cope with them. And only after this we can determine clear requirements for the product and start the development stage.
We are adherents of excellent design and great usability, and we are absolutely sure that these features are the most important for every startup. Clean and user-friendly interface can really facilitate the understanding of the idea of the startup and give a visual attractiveness to a product and even to make it a bulk product.
CartTuning team will try to be useful for you and to help your business grow with the maximum acceleration.
Don't waste your time, start now.
Testimonials
This is one of the most creative teams I ever knew. They are always ready to offer a fresh, uncommon idea and have a good eye for design. By the way they work I can tell they are absolutely committed to their craft.

Micklas Owner, Labutika

I really appreciate all the hard work you guys have done. You have made this project seem easy from concept to transition to live-mode! I will recommend your company to everyone I know.

Tony Cardenas Owner, Aunty Lilikoi

I'm very happy to work with these guys. I've already made several projects with them and every time I'm extremely satisfied with the results. They always understand my needs and seem to know how to read minds. Exceptional service.

Artem Solo COO, Munchen

Thanks for your amazing customer service. It seems to me you're very attentive, honest, creative and insightful people who do care about customers. I really appreciate this.

Ludmila Yamalova CEO, LYHPLAW

Excellent customer service, great products and timeliness is what I like about CartTuning. They helped me totally reconstruct and customize my website and it was a great pleasure to deal with them.

Tania Lazarevich Owner, Newesta.by

One of the best and fast place to improve your store carts. High quality cart add ons and templates, understand the customer requirements.

Dogan Ustundag

Nice website, please make more addons for CS-Cart. I will introduce your website to all the people use cs-cart that I know!

Derec C.

Great product, guys, worked first time and saved me loads of time!!

Steve Owner, the Cube Lab