Turnkey Solutions
Don't want to spend your time in vain searching for professionals who can make for you a new on-line store or to improve yours so that it became topical and profitable? CartTuning Team of highly experienced specialists is all yours.
Having been in business for 5.5 years already we've achieved significant experience and are ready to share. We offer you a full turnkey solution for businesses that includes:
Business analysis to identify your business needs and determine solutions to business problems;
Prototype creation of software applications (incomplete versions of the software program being developed);
Design, layouting, so that all the page elements were at their right places;
Programming;
Writing a search friendly content; SEO (Search Engine Optimization), the method of constructing and analyzing sites or individual web pages, so that they could be found easily, analyzed, and indexed by various search engines;
Copywriting;
Creating promotional plan (consists of several elements: sales promotion, advertising, personal selling, direct marketing, and publicity);
Promos, application development for iPhone, Android and social networking.
Experience and quality is what CartTuning Team is proud of. Contact Us to use our services or learn more.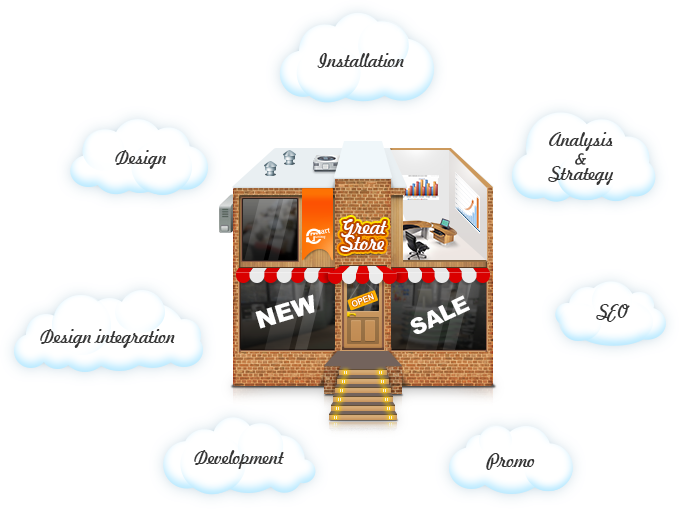 Testimonials
This is one of the most creative teams I ever knew. They are always ready to offer a fresh, uncommon idea and have a good eye for design. By the way they work I can tell they are absolutely committed to their craft.

Micklas Owner, Labutika

I really appreciate all the hard work you guys have done. You have made this project seem easy from concept to transition to live-mode! I will recommend your company to everyone I know.

Tony Cardenas Owner, Aunty Lilikoi

I'm very happy to work with these guys. I've already made several projects with them and every time I'm extremely satisfied with the results. They always understand my needs and seem to know how to read minds. Exceptional service.

Artem Solo COO, Munchen

Thanks for your amazing customer service. It seems to me you're very attentive, honest, creative and insightful people who do care about customers. I really appreciate this.

Ludmila Yamalova CEO, LYHPLAW

Excellent customer service, great products and timeliness is what I like about CartTuning. They helped me totally reconstruct and customize my website and it was a great pleasure to deal with them.

Tania Lazarevich Owner, Newesta.by

One of the best and fast place to improve your store carts. High quality cart add ons and templates, understand the customer requirements.

Dogan Ustundag

Nice website, please make more addons for CS-Cart. I will introduce your website to all the people use cs-cart that I know!

Derec C.

Great product, guys, worked first time and saved me loads of time!!

Steve Owner, the Cube Lab